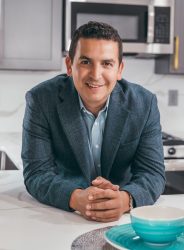 Joseph D Sullivan
Client First, Always!
Joseph Sullivan started his mortgage and real estate career in 2005.  He is the former owner of a highly successful real estate and mortgage branch in the Sacramento area, where he resided before relocating to sunny San Diego in 2008.  His philosophy is simple, but his approach to customer service is specifically designed with the client in mind.  "Keep it simple, personal, and clear," explains Joseph.
Joseph's transition to the mortgage industry began when he was hired by Sacramento Mortgage Brokerage to streamline their business processes.  Having been recruited for his technical proficiency and critical thinking skills, it was this initial crossover that allowed him to combine his education, expertise, and specialized skill set to his chosen career.  Joseph knows that his dual-minded thinking gives him a competitive edge within the mortgage industry.
Joseph's background in computer science and math from The University of Texas at El Paso, alongside his extensive education in real estate and real estate financing, have uniquely prepared him to face today's complex challenges in an ever-changing market.  He has also had the privilege of instructing multiple workshops, including "Understanding and Building Credit" and "First Time Homebuyers".  Joseph enjoys educating borrowers so that they are empowered to make informed decisions.  Ultimately, his goal is to assist his clients in identifying the best mortgage product for their individualized needs.
Understanding the entire process can be intimidating for many home buyers, so what sets him apart from his competition?  Joseph invests as much time as is needed to educate and openly communicate with his clients.  He goes the extra mile to ensure that each loan is executed with clarity, integrity, and peace of mind for the borrower.  By making sure that the parameters are well defined and that the clients' expectations are managed properly, he takes pride in his ability to identify each borrower's specific needs.
Joseph's vast knowledge of the Loan and Real Estate process continues to raise the bar for all of those lenders who strive to identify and individualize each client's needs.  At the end of each deal, he is proud of the relationship his had built with his clients and gracious for having had the opportunity to accommodate their specific needs.
He finds the entire process very rewarding, and when the day's work is finally done, he's off to live his own American dream with his family and friends.
CA DRE 01733459/AZ LO-0949634
DRE Lic.# 1733459
NMLS # 279481

Company NMLS # 292211

Office: 619-786-4478
3110 Camino Del Rio South, Suite 311
San Diego, CA 92108